Macy's

Brooklyn Downtown
Macy's, established in 1858, is the Great American Department Store—an iconic retailing brand over 740 stores operating coast-to-coast and online. Macy's offers a first-class selection of top fashion brands including Ralph Lauren, Calvin Klein, Clinique, Estee Lauder & Levis. In addition to shoes and clothing, Macy's has a wide variety of housewares, gifts and furniture in select stores.
Plan your visit to 422 Fulton St, Brooklyn, NY!
Day of the Week
Hours
Monday

8:00 AM

-

11:00 PM

Tuesday

8:00 AM

-

11:59 PM

Wednesday

8:00 AM

-

11:59 PM

Thursday

8:00 AM

-

11:59 PM

Friday

8:00 AM

-

11:59 PM

Saturday

7:00 AM

-

11:59 PM

Sunday

8:00 AM

-

11:00 PM
Buy Online, Pick Up In Store

Big Changes are Happening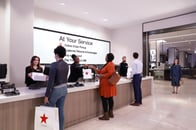 At Your Service
Shopping should be simple. At Your Service is the one-stop spot for all returns & exchanges, bill paying & more.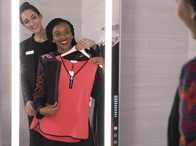 Free personal Stylist
Fashion challenges—accepted! Our pros will help you find the outfit, gifts, home decor (anything, really) you need.
Departments at this Store
Upcoming Events at

Macy's

Brooklyn Downtown
December 27, 2019 at 11:00AM

Did you know 80% of women are wearing the wrong size Bra? Join us in select stores for our Fit Event during the Macy's Lingerie Sale! Let our experts help you find your perfect fit. Events subject to change or cancellation.

Learn More
Services
Featured Service:

Featured service: Personal Stylist

We can help you find new outfits, gifts & wedding looks for free. And there's no pressure to buy. With a Macy's Personal Stylist, it's 100% about you.
Services at this Location
At Your Service - Floor 1
Benefit Brow Bar - Floor 1
Buy Online Pick Up In-Store - Floor 1
Buy Online Ship to Store - Floor 1
Ear Piercing - Floor 1
LensCrafters Optical - Floor 1
Men's Restrooms - Floor 3
Personal Stylist - Floor 3
Women's Restrooms - Floor 3
Family Restroom - Floor 4
Popular at

Macy's

Brooklyn Downtown